THE LATEST NEWS IN THE SUBMINI WORLD
---
NEW HIT BOOK A HIT AS IT HITS THE STREET (12/18/03)
Hit-style cameras have been around for nearly 70 years, but there has never been a definitive guide to these creatures. The best you could hope for would be to get bits and pieces of information from reliable sources. Well Mike Parker has changed all that and put his well of knowledge into book form. It's called: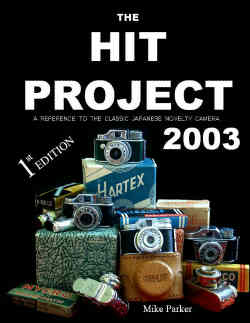 It is published, in its 144 page basic version, in black and white with a companion CD of color images and tabular data.
Table of Contents:
Introduction: Using this Guide - How the Book Happened - Collecting
Hit Cameras - Condition & Grading - Pricing & Value
Hit Camera History
What is a Hit Camera, Anyway?
Anatomy of a Hit Camera
Hit Camera Classification
Buying, Pricing & Value
The First & Ultimate Hit - A Mycro Camera History
The Cameras (Alphabetically By Name)
Appendices
If interested, please email Mike Parker (cameraguy@adelphia.net) for details on pricing and shipping info.
And if you are a user of these fine optical instruments, you can still get fresh film from GOATHILL. You have to reload your spools yourself, but it's not too difficult, and well worth the effort. Instructions on how to do this can be found in the DARKROOM section of the SUBCLUB.
---
COPYRIGHT @ 1995, 1996, 1997, 1998, 1999, 2000, 2001, 2002, 2003, 2004, 2005 by Joe McGloin. All Rights Reserved.