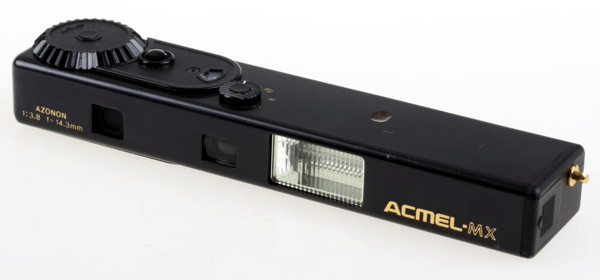 ASANUMA CAMERAS USING THE MINOX CASSETTE
---
If you are able to provide more accurate information than is listed here, please contact us.
---
Acmel M

(1984) Sold by Microtec, similar to Minimax. Fixed-focus, 14.3mm AZONON 3 element lens. Aperture control is f/3.8, 5.6, 8 and 11. Shutter speed is 1/200sec. Viewfinder is .45% magnification and 85% picture area. Size 65 long x 26 wide x 16 high mm. 36grams.

Acmel MD

Also sold by Microtec, this is an updated version of the Minimax/Acmel M. The lens is an Azonon f3.5 15mm (3 groups/4 elements) tessar type. Lens aperture: F 4.8 (fixed). Focusing to 30cm. Automatic photometer and electronic shutter system. Speeds now run up to 1/500. Special flash unit available. Sometimes called the MDX, but not the same as the MX. Size: 84mm x 37mm x 21mm . Weight: Approx, 55g
---
If you have any ideas, suggestions or comments about these pages, please contact the Sub Club at the FRONT DESK.

To return to the main index for the Sub Club click here.
COPYRIGHT @ 1995, 1996, 1997, 1998, 1999, 2000, 2001, 2002, 2003, 2004, 2005 by Joe McGloin. All Rights Reserved.