THE LATEST NEWS IN THE SUBMINI WORLD
---
MINOX ANNOUNCES NEW SUBMINIATURE CAMERAS (8/11/98)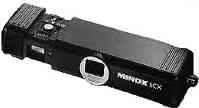 The first new 8x11 Minoxes in something like 20 years have arrived.
The first,.labeled the ECX; it is certainly a descendent of the EC, but it is definitely NOT an EC. All the specifics are not in yet, but the case shape is different and better ergonomically than the EC. The circuitry is improved with lower battery drain, there is an indicator light to tell you if there is film loaded, and there are some other nifty improvements.
Also announced is the new Minox CLX, a commemorative version of the LX. It has a very bright chrome finish and various icons etched into the body.
Last, but not least, is the MX. It is ACMEL-derived and very pretty with an f/4.8 15mm lens. It focuses using the same slide bar as an ACMEL . What it does NOT have is autoexposure. It uses a single 1/125 sec shutter speed for everything. The brochure says it's a 4 element lens. In some ways it is the long-desired focusing EC; focus cost less to put in than an auto shutter, so that let them hit a very interesting price/performance point exploiting the incredible exposure range of the best modern films.
You can find out more about these cameras from Minox as info gets posted to the Minox site.
I'm sure that there will be some lively discussion about this new camera in the COFFEE SHOP section of the SUBCLUB. There is always a LOT of Minox talk going on there and everyone is welcome to join in (or just watch) free of charge. It's definitely better than a night of TV!
---
COPYRIGHT @ 1995, 1996, 1997, 1998, 1999, 2000, 2001, 2002, 2003, 2004, 2005 by Joe McGloin. All Rights Reserved.