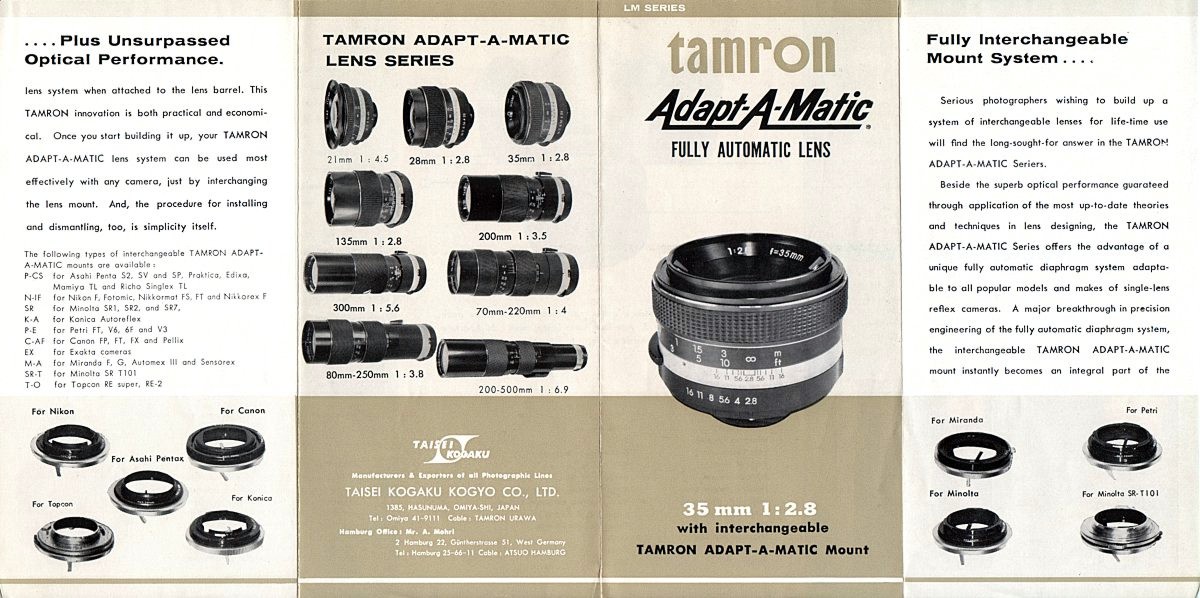 Independent Lens Manufacturer lenses for Minolta SLR cameras
---
Minolta offered a LOT of lenses over the years for their 35mm SLR cameras, but so did a lot of independent lens manufacturers, distributors, and sellers -- Vivitar, Soligor, Tamron, Tokina, Kino, Sun, Cosina, Komine, Asanuma, Kalimar, Sigma, Access, Osawa, Spiratone, and Cambron are just a few -- and many of these were superb optics.
Here is a list of MOST of the lenses from the major labels that were made with Minolta SLR camera mounts. They are listed by focal length with their major features. And remember, there are LOTS of lenses from other makers that are NOT included here!
Also remember that adapters are available to attach other lenses to Minolta cameras that were never made with Minolta lens mounts, such as M42 screw-mount, Exakta bayonet, and Leica l39 screw-mount! Perhaps the lens mount that has the most lenses of all is the M42 screw mount -- over 1600 lenses!!! This is adaptable to all of Minolta's SLR cameras -- with the loss of the automatic aperture feature -- and were made by too many manufacturers to list here. Fortunately, there is a website where you can find out about all of these M42 lenses -- which are sometimes referred to as Praktica, Universal, or Pentax screw-mount lenses. It is M42LENS.COM.
---
Keep in mind that some of the lenses on the below table appeared with slightly different configurations, but will only appear on this list once. For example, the same lens might exist with and without ED/APO/LD glass or IF (internal focusing), but they are only listed here once -- if all other features are the same. Also, some of these lenses have the same optical configuration but were manufactured or sold by different lens companies. The best example is the Vivitar Series 1 70-210 f2.8-4 -- which was made by Cosina and Komine. The two lenses are exactly the same in regards to filter thread size, close-focusing distance, etc. , and so is only listed once here. In addition, most of these lenses appeared under different labels, as well. A Vivitar lens made by Tokina, may also appear under the Tokina label and/or the Minolta label and/or the Soligor label. In short, a lens with the same brand name, focal length, aperture, optical design, filter thread, and close-focusing distance will only appear once on this list -- but might exist with variations in other specifications not listed, such as rubber waffling style, tripod connection, coloring, DOF scale, built-in lens shade, etc.
Another variable is the lens mount. Most of these lenses were made with a fixed Minolta lens mount, but many -- sometimes the same lens -- were made with interchangeable lens mounts, such as T-mount, T2, T4, TX, Tamron Adaptamatic, Adaptall, Adaptall-2, Kaligor Auto-T, Sigma YS Auto, etc. -- to allow the lens to fit on other cameras. And many of these manual-focusing lenses were also sold as auto-focusing lenses, as well.
In short, any lens on this list may have been made in a number of different configurations -- and probably was -- even where all of the specs below are exactly the same!
Focal
Length
Maximum
f-stop
Brand
Name
Design
Elements/
Groups
Close
Focusing
in Feet
Filter
Thread
8mm
f4
Sigma
11 / 7
0.6
22.5mm
12mm
f8
Sigma
7 / 5
1.0
--
14mm
f3.5
Sigma
13 / 11
0.6
--
15mm
f2.8
Sigma
7 / 6
0.5
--
15mm
f2.8
Sigma
8 / 7
0.5
--
16mm
f2.8
Sigma
11 / 8
0.7
22.5mm
16mm
f2.8
Sigma
9 / 8
0.5
22.5mm
17mm
f3.5
Soligor
11 / 8
0.7
72mm
17mm
f3.5
Tamron
12 / 10
0.8
--
17mm
f3.5
Tamron
12 / 10
0.8
82mm
17mm
f3.5
Tokina
11 / 9
0.8
67mm
17mm
f3.5
Vivitar
11 / 9
0.8
67mm
17mm
f3.5
Vivitar
11 / 8
0.7
72mm
17-28mm
f4-4.5
Vivitar
14 / 11
1.6
72mm
18mm
f2.8
Sigma
10 / 9
1.0
72mm
18mm
f2.8
Sigma
11 / 9
0.7
62mm
18mm
f2.8
Sigma
11 / 9
1.0
67mm
18mm
f3.2
Sigma
12 / 10
0.7
72mm
18mm
f3.5
Sigma
10 / 9
0.8
72mm
18-35mm
f3.5-4.5
Sigma
11 / 10
1.6
82mm
19mm
f3.8
Vivitar
9 / 8
0.7
62mm
19-35mm
f3.5-4.5
Vivitar
13 / 11
1.6
77mm
20mm
f2.8
Soligor
9 / 7
0.7
58mm
20mm
f3.8
Vivitar
9 / 7
0.5
82mm
21mm
f3.8
Soligor
9 / 8
1.1
72mm
21mm
f3.8
Vivitar
9 / 8
1.0
72mm
21-35mm
f3.5-4.0
Sigma
12 / 12
1.6
67mm
21-35mm
f3.5-4.2
Sigma
12 / 12
1.6
77mm
23mm
f3.5
Soligor
8 / 6
1.0
62mm
24mm
f2
Vivitar
8 / 8
1.0
52mm
24mm
f2
Vivitar
8 / 8
1.0
55mm
24mm
f2.0
Kiron
8 / 8
1.0
55mm
24mm
f2.5
Soligor
9 / 7
1.0
55mm
24mm
f2.5
Tamron
10 / 9
0.7
55mm
24mm
f2.5
Tamron
10 / 9
0.8
55mm
24mm
f2.8
Sigma
10 / 8
?
52mm
24mm
f2.8
Sigma
7 / 7
0.6
52mm
24mm
f2.8
Sigma
8 / 7
0.6
52mm
24mm
f2.8
Soligor
9 / 7
0.8
52mm
24mm
f2.8
Soligor
8 / 7
1.5
67mm
24mm
f2.8
Tokina
7 / 7
1.3
52mm
24mm
f2.8
Vivitar
7 / 7
0.6
52mm
24mm
f2.8
Vivitar
8 / 8
0.9
52mm
24mm
f2.8
Vivitar
8 / 7
0.4
58mm
24mm
f2.8
Vivitar
? / ?
?
67mm
24-40mm
f2.8
Tokina
17 / 13
1.3
72mm
24-45mm
f3.5-4.5
Soligor
11 / 10
1.6
62mm
24-48mm
f3.5-3.8
Tamron
10 / 9
2.0
77mm
24-48mm
f3.8
Vivitar
10 / 9
2.0
77mm
24-50mm
f4-5.6
Sigma
9 / 9
1.3
52mm
24-70mm
f3.5-4.8
Soligor
14 / 10
3.9
67mm
24-70mm
f3.5-5.6
Sigma
11 / 10
1.6
55mm
24-70mm
f3.8-4.8
Vivitar
11 / 10
3.9
67mm
25mm
f2.8
Soligor
8 / 6
0.8
52mm
25-50mm
f4.0
Tokina
? / ?
1.6
55mm
28mm
f1.8
Sigma
9 / 8
1.0
58mm
28mm
f1.9
Vivitar
9 / 8
1.0
58mm
28mm
f2
Vivitar
8 / 7
0.8
49mm
28mm
f2
Vivitar
8 / 8
1.0
55mm
28mm
f2.0
Kiron
8 / 8
1.0
55mm
28mm
f2.0
Soligor
8 / 7
0.7
58mm
28mm
f2.5
Soligor
8 / 7
1.0
52mm
28mm
f2.5
Tamron
7 / 7
0.8
49mm
28mm
f2.5
Vivitar
7 / 7
0.8
58mm
28mm
f2.5
Vivitar
8 / 7
1.0
62mm
28mm
f2.5
Vivitar
8 / 7
1.0
67mm
28mm
f2.8
Kiron
7 / 7
1.0
55mm
28mm
f2.8
Sigma
6 / 6
0.7
52mm
28mm
f2.8
Sigma
7 / 6
1.0
62mm
28mm
f2.8
Sigma
8 / 7
0.7
52mm
28mm
f2.8
Soligor
6 / 6
0.7
49mm
28mm
f2.8
Soligor
8 / 8
1.0
52mm
28mm
f2.8
Soligor
8 / 7
1.3
55mm
28mm
f2.8
Soligor
7 / 6
1.5
58mm
28mm
f2.8
Soligor
7 / 6
0.9
58mm
28mm
f2.8
Soligor
7 / 6
1.5
62mm
28mm
f2.8
Tamron
7 / 7
0.8
52mm
28mm
f2.8
Tokina
5 / 5
1.0
52mm
28mm
f2.8
Tokina
5 / 5
1.0
49mm
28mm
f2.8
Vivitar
5 / 5
0.8
49mm
28mm
f2.8
Vivitar
7 / 7
1.0
49mm
28mm
f2.8
Vivitar
7 / 7
1.0
52mm
28mm
f2.8
Vivitar
7 / 6
1.0
58mm
28-35mm
f3.5-3.8
Soligor
9 / 9
1.3
52mm
28-50mm
f3.5-4.5
Soligor
10 / 10
3.0
52mm
28-50mm
f3.5-4.5
Tamron
9 / 9
0.8
58mm
28-50mm
f3.5-4.5
Vivitar
9 / 9
2.0
58mm
28-55mm
f3.3-4.5
Soligor
8 / 8
2.0
55mm
28-56mm
f3.5-4.5
Sigma
10 / 10
1.3
52mm
28-70mm
f2.8
Sigma
13 / 10
1.6
72mm
28-70mm
f2.8-4
Sigma
7
1.6
55mm
28-70mm
f2.8-4.2
Soligor
11 / 10
1.6
72mm
28-70mm
f2.8-4.3
Tokina
? / ?
2.3
62mm
28-70mm
f3.5-4.5
Kiron
? / ?
3.0
62mm
28-70mm
f3.5-4.5
Sigma
11 / 8
1.6
52mm
28-70mm
f3.5-4.5
Sigma
9 / 9
1.8
52mm
28-70mm
f3.5-4.5
Tamron
8 / 8
1.0
62mm
28-70mm
f3.5-4.5
Tokina
10 / 9
1.0
52mm
28-70mm
f3.5-4.8
Vivitar
8 / 8
2.6
52mm
28-70mm
f3.9-4.8
Soligor
9 / 9
2.6
55mm
28-70mm
f3.9-4.8
Tokina
9 / 9
1.1
55mm
28-70mm
f4.0
Kiron
? / ?
3.0
62mm
28-80mm
f3.3-4.5
Soligor
10 / 9
3.3
62mm
28-80mm
f3.5-4.2
Tamron
9 / 8
1.2
67mm
28-80mm
f3.5-4.5
Sigma
?
1.6
62mm
28-80mm
f3.5-4.5
Soligor
15 / 13
5.9
62mm
28-80mm
f3.5-4.5
Vivitar
? / ?
2.6
58mm
28-80mm
f3.8-4.8
Soligor
9 / 9
2.3
62mm
28-80mm
f3.8-4.8
Tokina
? / ?
2.6
67mm
28-84mm
f3.5-4.5
Sigma
14 / 11
1.6
58mm
28-85mm
f2.8-3.8
Kiron
14 / 11
1.5
67mm
28-85mm
f3.5-4.5
Sigma
15 / 10
1.6
67mm
28-85mm
f3.5-4.5
Tokina
? / ?
2.3
62mm
28-85mm
f3.5-4.5
Tokina
? / ?
3.0
62mm
28-85mm
f3.5-4.5
Vivitar
13 / 12
1.1
62mm
28-85mm
f4.0
Tokina
16 / 10
2.5
72mm
28-90mm
f2.8-3.5
Vivitar
14 / 12
0.8
67mm
28-105mm
f2.8-3.8
Vivitar
14 / 12
0.7
67mm
28-105mm
f3.2-4.5
Kiron
15 / 12
1.0
67mm
28-105mm
f3.5-4.5
Soligor
15 / 14
6.6
72mm
28-105mm
f3.5-4.5
Vivitar
15 / 14
2.4
72mm
28-105mm
f3.5-4.8
Tokina
15 / 12
1.6
62mm
28-105mm
f4-5.6
Sigma
15 / 12
1.6
58mm
28-105mm
f4.0-5.3
Tokina
? / ?
8.2
62mm
28-135mm
f3.8-5.2
Soligor
17 / 14
6.6
67mm
28-135mm
f4-4.5
Tamron
17 / 10
0.9
67mm
28-200mm
f3.5-5.3
Soligor
18 / 16
8.2
72mm
28-200mm
f3.5-5.3
Tokina
18 / 6
4.4
72mm
28-200mm
f3.5-5.3
Vivitar
18 / 16
8.2
72mm
28-200mm
f3.5-5.6
Soligor
18 / 16
8.2
72mm
28-200mm
f3.8-5.5
Soligor
17 / 15
3.6
72mm
28-200mm
f3.8-5.6
Tamron
16 / 14
6.9
72mm
28-200mm
f3.8-5.6
Tamron
16 / 14
2.6
72mm
28-200mm
f4-5.6
Sigma
18 / 16
3.3
72mm
28-210mm
f3.5-5.6
Vivitar
14 / 12
3.6
72mm
28-210mm
f3.8-5.6
Kiron
14 / 11
3.9
72mm
28-210mm
f4.0-5.6
Kiron
14 / 11
8.2
72mm
30-80mm
f3.5-4.5
Kiron
14 / 11
0.8
55mm
35mm
f1.9
Vivitar
8 / 6
1.0
55mm
35mm
f2.0
Soligor
8 / 7
1.0
58mm
35mm
f2.0
Tokina
8 / 7
1.0
58mm
35mm
f2.5
Vivitar
7 / 7
0.9
58mm
35mm
f2.8
Sigma
6 / 5
1.6
52mm
35mm
f2.8
Soligor
6 / 5
1.6
46mm
35mm
f2.8
Soligor
6 / 5
2.0
49mm
35mm
f2.8
Soligor
6 / 5
1.0
52mm
35mm
f2.8
Soligor
6 / 5
1.6
55mm
35mm
f2.8
Vivitar
6 / 5
1.0
49mm
35mm
f2.8
Vivitar
6 / 5
1.1
52mm
35-70mm
f2.5-3.5
Soligor
10 / 9
1.6
58mm
35-70mm
f2.8
Tokina
13 / 10
2.0
62mm
35-70mm
f2.8-3.8
Vivitar
8 / 8
1.6
55mm
35-70mm
f2.8-4
Sigma
9 / 9
1.6
52mm
35-70mm
f3.5
Tamron
7 / 7
0.8
58mm
35-70mm
f3.5
Tokina
? / ?
2.6
55mm
35-70mm
f3.5
Vivitar
8 / 8
2.5
58mm
35-70mm
f3.5-4.5
Sigma
? / ?
?
52mm
35-70mm
f3.5-4.5
Soligor
7 / 7
1.3
52mm
35-70mm
f3.5-4.5
Tamron
7 / 7
0.8
58mm
35-70mm
f3.5-4.8
Soligor
7 / 7
1.6
52mm
35-70mm
f3.5-4.8
Tokina
7 / 7
1.3
49mm
35-70mm
f3.5-4.8
Vivitar
7 / 7
1.3
52mm
35-70mm
f3.5-4.8
Vivitar
8 / 8
1.3
52mm
35-70mm
f4
Tokina
? / ?
2.0
55mm
35-80mm
f2.8-3.5
Tamron
13 / 13
4.3
62mm
35-80mm
f2.8-3.8
Tamron
9 / 8
0.9
62mm
35-80mm
f3.5-4.8
Soligor
7 / 7
3.0
58mm
35-80mm
f4-5.6
Sigma
8 / 7
1.6
52mm
35-85mm
f2.8
Vivitar
12 / 9
0.9
72mm
35-105mm
f3.2-4
Vivitar
13 / 12
1.6
55mm
35-105mm
f3.5
Soligor
13 / 11
4.9
72mm
35-105mm
f3.5
Tokina
14 / 8
4.6
72mm
35-105mm
f3.5
Vivitar
13 / 11
1.1
72mm
35-105mm
f3.5-4.3
Tokina
16 / 13
5.2
55mm
35-105mm
f3.5-4.5
Sigma
9
5.2
55mm
35-105mm
f3.5-4.5
Soligor
13 / 11
4.9
55mm
35-135mm
f3.5-4.2
Tamron
14 / 12
5.9
67mm
35-135mm
f3.5-4.5
Kiron
15 / 11
4.9
62mm
35-135mm
f3.5-4.5
Sigma
15 / 11
5.9
55mm
35-135mm
f3.5-4.5
Tamron
15 / 13
4.9
58mm
35-135mm
f4-5.6
Sigma
14 / 11
3.9
58mm
35-140mm
f3.5
Soligor
13 / 10
4.9
72mm
35-140mm
f3.8-5.3
Soligor
13 / 11
6.6
62mm
35-200mm
f3-4.5
Vivitar
? / ?
3.9
62mm
35-200mm
f3.5-4.5
Soligor
15 / 13
5.6
67mm
35-200mm
f3.5-4.5
Tokina
? / ?
5.2
67mm
35-200mm
f3.8-5.3
Soligor
15 / 13
8.2
67mm
35-200mm
f4-5.6
Sigma
16 / 13
5.9
62mm
35-200mm
f4.0-5.6
Tokina
18 / 16
3.6
62mm
35-210mm
f3.5-4.2
Tamron
16 / 12
1.0
67mm
37-105mm
f3.5
Soligor
13 / 10
5.9
72mm
38-100mm
f3.5
Tamron
13 / 10
4.9
67mm
38-100mm
f3.5
Tamron
13 / 13
4.9
72mm
39-80mm
f3.5
Sigma
12 / 10
0.9
62mm
45-150mm
f3.5
Soligor
13 / 11
4.9
67mm
50mm
f1.8
Soligor
6 / 5
1.5
52mm
50mm
f1.8
Vivitar
6 / 5
1.5
49mm
50mm
f2.8
Sigma
10 / 9
0.6
52mm
50-200mm
f3.5-4.5
Sigma
15 / 11
5.9
62mm
50-200mm
f3.5-4.5
Tokina
? / ?
3.9
62mm
50-250mm
f4-5.6
Tokina
14 / 11
5.9
55mm
55mm
f2.8
Sigma
7 / 5
0.8
55mm
55mm
f2.8
Soligor
5 / 4
0.2
62mm
55mm
f2.8
Vivitar
5 / 4
0.7
62mm
55-135mm
f3.5
Soligor
13 / 9
4.9
62mm
55-135mm
f3.5
Vivitar
? / ?
?
62mm
55-200mm
f4-5.6
Sigma
12 / 8
4.9
52mm
55-200mm
f4.5
Sigma
12 / 10
4.9
58mm
60-120mm
f2.8
Tokina
14 / 11
3.9
55mm
60-200mm
f4-5.6
Sigma
12 / 9
4.9
52mm
60-300mm
f3.8-5.4
Tamron
15 / 11
6.2
62mm
60-300mm
f4-5.6
Tokina
13 / 9
4.9
67mm
60-300mm
f4.0-5.6
Soligor
13 / 9
4.9
67mm
70-150mm
f2.8
Tamron
14 / 10
3.2
62mm
70-150mm
f3.5
Sigma
? / ?
6.6
62mm
70-150mm
f3.5
Soligor
12 / 9
4.9
55mm
70-150mm
f3.5
Tamron
13 / 10
2.3
49mm
70-150mm
f3.5
Tamron
12 / 10
4.9
52mm
70-150mm
f3.5
Tamron
13 / 11
4.9
52mm
70-150mm
f3.8
Soligor
12 / 9
4.9
49mm
70-150mm
f3.8
Tamron
13 / 11
4.9
52mm
70-150mm
f3.8
Tokina
? / ?
5.2
55mm
70-150mm
f3.8
Vivitar
12 / 9
1.3
52mm
70-150mm
f3.8
Vivitar
15 / 10
1.3
52mm
70-150mm
f4.0
Kiron
? / ?
?
52mm
70-160mm
f3.5
Soligor
12 / 9
4.9
55mm
70-200mm
f4.5-5.6
Soligor
12 / 10
3.3
49mm
70-210mm
f2.8
Sigma
17 / 13
5.9
82mm
70-210mm
f2.8
Sigma
17 / 13
5.9
77mm
70-210mm
f2.8-4
Vivitar
14 / 11
3.6
58mm
70-210mm
f2.8-4
Vivitar
14 / 10
2.6
62mm
70-210mm
f3.5
Soligor
12 / 9
4.9
67mm
70-210mm
f3.5
Tamron
15 / 11
2.8
62mm
70-210mm
f3.5
Tokina
? / ?
4.6
62mm
70-210mm
f3.5
Tokina
? / ?
4.6
67mm
70-210mm
f3.5
Vivitar
14 / 10
3.9
62mm
70-210mm
f3.5
Vivitar
15 / 10
1.0
67mm
70-210mm
f3.5-4
Tamron
16 / 15
2.5
58mm
70-210mm
f3.5-4.5
Sigma
12 / 9
4.9
52mm
70-210mm
f3.8-4
Tamron
12 / 9
3.0
58mm
70-210mm
f4
Tokina
? / ?
3.6
55mm
70-210mm
f4-5.6
Sigma
12 / 9
4.9
52mm
70-210mm
f4-5.6
Sigma
13 / 9
3.9
52mm
70-210mm
f4-5.6
Tamron
13 / 9
3.6
52mm
70-210mm
f4-5.6
Tokina
12 / 8
4.3
52mm
70-210mm
f4.0
Kiron
13 / 9
3.8
62mm
70-210mm
f4.5
Kiron
12 / 9
3.6
55mm
70-210mm
f4.5
Sigma
12 / 9
3.3
52mm
70-210mm
f4.5
Soligor
12 / 9
6.6
58mm
70-210mm
f4.5
Vivitar
? / ?
3.6
52mm
70-210mm
f4.5-5.6
Soligor
12 / 9
3.3
49mm
70-210mm
f4.5-5.6
Tokina
12 / 8
3.6
49mm
70-210mm
f4.5-5.6
Vivitar
10 / 7
3.6
52mm
70-210mm
f4.5-5.6
Vivitar
12 / 8
4.3
52mm
70-210mm
f4.5-5.6
Vivitar
12 / 9
3.6
52mm
70-220mm
f3.5
Soligor
15 / 12
4.9
72mm
70-220mm
f3.5
Tokina
16 / ?
0.8
72mm
70-220mm
f3.8
Tamron
14 / 11
8.2
62mm
70-222mm
f3.5
Soligor
13 / 9
5.9
67mm
70-230mm
f4.5
Sigma
13 / 10
6.6
62mm
70-235mm
f4.5
Soligor
8 / 8
8.2
67mm
70-250mm
f3.5-4.5
Sigma
12 / 9
?
62mm
70-300mm
f4.2-5.8
Vivitar
13 / 9
4.9
55mm
70-350mm
f4.5
Tamron
15 / 13
8.2
82mm
75-200mm
f2.8-3.5
Sigma
13 / 10
3.9
67mm
75-200mm
f3.8
Sigma
12 / 9
3.9
55mm
75-205mm
f3.5
Soligor
13 / 9
6.6
62mm
75-205mm
f3.5-4.5
Vivitar
? / ?
3.3
55mm
75-205mm
f3.8
Vivitar
15 / 10
3.9
58mm
75-205mm
f3.8
Vivitar
? / ?
?
62mm
75-205mm
f3.8-4.8
Soligor
12 / 9
4.9
52mm
75-210mm
f3.5-4.5
Sigma
11 / 8
4.9
52mm
75-210mm
f3.8-5.6
Sigma
? /?
4.9
52mm
75-250mm
f3.8-4.5
Tamron
13 / 10
3.9
62mm
75-250mm
f3.8-4.5
Tamron
13 / 11
3.9
62mm
75-250mm
f4.5
Soligor
13 / 10
8.2
62mm
75-260mm
f4.5
Soligor
13 / 10
4.9
67mm
75-260mm
f4.5
Vivitar
? / ?
6.6
67mm
75-300mm
f3.5-4.5
Tokina
11 / 8
5.6
58mm
75-300mm
f4-5.6
Sigma
13 / 9
4.9
67mm
75-300mm
f4-5.6
Sigma
14 / 11
4.9
55mm
75-300mm
f4.5-5.6
Sigma
13 / 10
4.9
55mm
75-300mm
f4.5-5.6
Sigma
13 / 9
4.9
55mm
75-300mm
f4.5-5.6
Sigma
14 / 11
4.9
55mm
75-300mm
f4.5-5.6
Vivitar
14 / 10
4.9
58mm
75-300mm
f5.6
Soligor
13 / 9
4.3
58mm
78-210mm
f3.5
Soligor
12 / 8
6.6
62mm
80-200mm
f2.8
Tamron
16 / 12
4.9
77mm
80-200mm
f2.8
Tokina
17 / 11
5.9
77mm
80-200mm
f3.5
Sigma
14 / 12
5.9
62mm
80-200mm
f3.5
Soligor
13 / 9
2.0
62mm
80-200mm
f3.5-4
Sigma
? / ?
?
52mm
80-200mm
f3.5-4.5
Tokina
13 / 10
3.6
55mm
80-200mm
f4
Tokina
12 / 9
6.2
55mm
80-200mm
f4
Vivitar
12 / 9
4.9
55mm
80-200mm
f4.0
Kiron
? / ?
4.3
55mm
80-200mm
f4.0
Tokina
12 / 9
6.6
52mm
80-200mm
f4.5
Kiron
11 / 8
3.4
55mm
80-200mm
f4.5
Soligor
13 / 9
6.6
55mm
80-200mm
f4.5
Tokina
12 / 9
6.9
52mm
80-200mm
f4.5
Vivitar
12 / 9
6.6
55mm
80-200mm
f4.5
Vivitar
10 / 7
5.9
58mm
80-200mm
f4.5-5.6
Soligor
10 / 8
6.6
55mm
80-200mm
f4.5-5.6
Tokina
11 / 8
3.6
49mm
80-210mm
f3.8
Soligor
14 / 9
6.6
62mm
80-210mm
f3.8-4
Tamron
12 / 10
3.0
58mm
80-210mm
f3.8-4
Tamron
13 / 10
3.0
58mm
80-250mm
f3.8
Tamron
13 / 11
6.6
72mm
80-250mm
f3.8-4.5
Tamron
13 / 10
4.9
62mm
85mm
f1.4
Vivitar
9 / 7
3.3
72mm
85mm
f1.5
Soligor
7 / 5
3.0
62mm
85mm
f1.8
Vivitar
? / ?
?
55mm
85mm
f4
Soligor
9 / 6
5.9
49mm
85-205mm
f3.8
Soligor
12 / 9
8.2
62mm
85-205mm
f3.8
Vivitar
13 / 9
6.2
58mm
85-210mm
f3.8
Soligor
12 / 9
5.6
62mm
85-210mm
f4.5
Tamron
12 / 9
4.9
55mm
85-210mm
f4.5
Tamron
12 / 9
6.6
55mm
85-210mm
f4.5
Tamron
12 / 9
5.9
55mm
90mm
f2.5
Soligor
6 / 5
1.1
62mm
90mm
f2.5
Tamron
8 / 6
1.3
49mm
90mm
f2.5
Tamron
8 / 6
1.3
55mm
90mm
f2.5
Tokina
8 / 7
1.3
55mm
90mm
f2.5
Vivitar
11 / 10
1.3
58mm
90mm
f2.5
Vivitar
? / ?
1.6
62mm
90mm
f2.8
Sigma
10 / 9
0.6
52mm
90mm
f2.8
Sigma
9 / 9
1.0
52mm
90mm
f2.8
Tamron
10 / 9
1.0
55mm
90mm
f2.8
Vivitar
6 / 5
1.1
62mm
90-180mm
f4.5
Vivitar
18 / 12
2.2
72mm
90-230mm
f4.5
Soligor
11 / 7
8.2
58mm
90-230mm
f4.5
Vivitar
11 / 7
4.6
58mm
95-210mm
f4.5
Soligor
12 / 9
5.9
52mm
95-310mm
f5.6
Soligor
14 / 9
4.9
58mm
100mm
f2
Soligor
6 / 4
4.9
58mm
100mm
f2.8
Sigma
7 / 5
1.1
62mm
100mm
f2.8
Vivitar
5 / 3
1.4
52mm
100mm
f2.8
Vivitar
5 / 3
4.6
55mm
100mm
f3.5
Soligor
5 / 4
1.4
49mm
100mm
f3.5
Vivitar
5 / 4
1.4
49mm
100-200mm
f4
Vivitar
13 / 9
3.0
58mm
100-200mm
f4.5
Sigma
10 / 6
8.2
55mm
100-200mm
f5.6
Soligor
7 / 5
9.8
55mm
100-300mm
f4
Tokina
16 / 12
6.6
77mm
100-300mm
f4.5-6.7
Sigma
13 / 10
6.6
55mm
100-300mm
f5
Tokina
? / ?
6.6
55mm
100-300mm
f5
Vivitar
13 / 9
1.4
62mm
100-500mm
f5.6-7.5
Soligor
15 / 9
5.9
72mm
100-500mm
f5.6-8
Sigma
13 / 9
9.8
72mm
100-500mm
f5.6-8
Vivitar
15 / 10
9.8
67mm
105mm
f2.5
Tamron
4 / 4
4.3
52mm
105mm
f2.5
Vivitar
6 / 5
1.1
52mm
105mm
f2.8
Kiron
6 / 6
1.1
52mm
105mm
f2.8
Soligor
4 / 4
5.1
49mm
105mm
f2.8
Vivitar
? / ?
4.9
49mm
120-300mm
f5.6
Sigma
14 / 11
1.6
62mm
120-300mm
f5.6-6.3
Sigma
? / ?
5.2
52mm
120-600mm
f5.6-8
Soligor
15 / 11
13.1
82mm
120-600mm
f5.6-8
Vivitar
15 / 11
13.1
82mm
125-580mm
f5.6-8
Soligor
15 / 11
13.1
82mm
130-650mm
f5.6-7.5
Soligor
15 / 9
13.1
86mm
135mm
f1.5
Soligor
6 / 4
3.9
98mm
135mm
f1.5
Vivitar
7 / 6
5.4
95mm
135mm
f1.8
Sigma
7 / 5
6.6
77mm
135mm
f2.0
Soligor
6 / 5
5.9
77mm
135mm
f2.3
Vivitar
6 / 6
2.9
72mm
135mm
f2.5
Tamron
4 / 4
3.9
58mm
135mm
f2.5
Vivitar
5 / 4
6.6
58mm
135mm
f2.8
Sigma
4 / 4
4.9
55mm
135mm
f2.8
Sigma
4 / 4
6.6
62mm
135mm
f2.8
Soligor
4 / 4
4.9
55mm
135mm
f2.8
Tamron
4 / 4
4.9
55mm
135mm
f2.8
Tokina
4 / 4
?
52mm
135mm
f2.8
Vivitar
4 / 4
4.9
55mm
135mm
f2.8
Vivitar
5 / 5
4.5
55mm
135mm
f2.8
Vivitar
4 / 4
1.2
62mm
135mm
f3.5
Sigma
5 / 5
4.6
52mm
135mm
f3.5
Soligor
6 / 5
4.9
46mm
135mm
f3.5
Soligor
4 / 4
5.9
49mm
135mm
f3.5
Soligor
6 / 5
5.9
49mm
135mm
f3.5
Vivitar
4 / 3
5.9
49mm
135mm
f3.5
Vivitar
4 / 3
5.9
52mm
150-500mm
f5.6
Tokina
15 / 13
10.2
95mm
180mm
f2.5
Tamron
10 / 7
3.9
77mm
180mm
f2.8
Sigma
13 / 11
2.1
82mm
180mm
f3.5
Soligor
4 / 4
7.5
58mm
180mm
f5.6
Sigma
9 / 6
1.8
55mm
180-400mm
f5.6
Soligor
11 / 7
13.1
77mm
200mm
f2.8
Sigma
6 / 5
8.2
72mm
200mm
f2.8
Soligor
6 / 4
7.2
77mm
200mm
f3
Vivitar
6 / 6
3.9
72mm
200mm
f3.5
Sigma
7 / 7
4.3
58mm
200mm
f3.5
Soligor
4 / 4
9.8
67mm
200mm
f3.5
Tamron
5 / 5
5.6
58mm
200mm
f3.5
Tamron
4 / 3
8.2
62mm
200mm
f3.5
Tokina
? / ?
8.2
58mm
200mm
f3.5
Tokina
? / ?
7.5
62mm
200mm
f3.5
Vivitar
5 / 4
5.9
62mm
200mm
f3.5
Vivitar
5 / 4
8.2
62mm
200mm
f4.0
Sigma
5 / 5
9.8
62mm
200-500mm
f5.6
Tamron
14 / 10
8.2
95mm
200-500mm
f6.9
Tamron
14 / 8
9.8
82mm
250mm
f4.5
Soligor
4 / 4
14.8
62mm
250mm
f4.5
Vivitar
? / ?
9.8
67mm
300mm
f2.8
Sigma
12 / 9
8.2
30.5mm
300mm
f2.8
Tamron
10 / 7
8.2
112mm
300mm
f2.8
Tamron
7 / 6
9.8
112mm
300mm
f2.8
Tokina
9 / 7
7.9
35.5mm
300mm
f4
Sigma
6 / 5
5.6
77mm
300mm
f4.5
Sigma
8 / 6
8.2
67mm
300mm
f5.5
Soligor
5 / 4
19.7
62mm
300mm
f5.5
Soligor
5 / 5
19.7
62mm
300mm
f5.5
Vivitar
4 / 4
14.8
58mm
300mm
f5.6
Sigma
6 / 5
19.7
62mm
300mm
f5.6
Tamron
4 / 4
8.2
58mm
300mm
f5.6
Tamron
6 / 5
4.6
58mm
300mm
f5.6
Vivitar
4 / 4
14.8
58mm
300mm
f5.6
Vivitar
5 / 3
19.7
58mm
350mm
f5.6
Soligor
4 / 2
16.4
67mm
350mm
f5.6
Soligor
4 / 2
26.2
72mm
350mm
f5.6
Tamron
7 / 4
3.6
82mm
350-1200mm
f11
Sigma
17 / 11
19.7
30.5mm
400mm
f4
Tamron
10 / 7
9.8
112mm
400mm
f5.6
Sigma
11 / 8
13.1
72mm
400mm
f5.6
Sigma
4 / 4
21.3
72mm
400mm
f5.6
Sigma
7 / 7
6.6
30.5mm
400mm
f5.6
Soligor
4 / 4
16.4
72mm
400mm
f5.6
Tokina
8 / 5
13.1
72mm
400mm
f5.6
Vivitar
5 / 4
13.1
72mm
400mm
f5.6
Vivitar
5 / 5
20.0
77mm
400mm
f5.6
Vivitar
8 / 8
13.1
77mm
400mm
f5.6
Vivitar
5 / 4
19.7
82mm
400mm
f6.3
Soligor
4 / 3
23.0
67mm
400mm
f6.3
Soligor
4 / 4
21.3
67mm
400mm
f6.3
Soligor
4 / 3
24.9
72mm
400mm
f6.3
Vivitar
4 / 3
23.9
72mm
450mm
f4.5
Vivitar
13 / 10
11.2
35.5mm
500mm
f4
Sigma
5 / 5
49.2
37.5mm
500mm
f4.5
Sigma
10 / 8
16.4
30.5mm
500mm
f6.3
Vivitar
3 / 2
32.8
92mm
500mm
f7.2
Sigma
12 / 9
11.5
72mm
500mm
f8
Sigma
5 / 5
13.1
77mm
500mm
f8
Soligor
5 / 4
8.2
72mm
500mm
f8
Soligor
4 / 4
32.8
77mm
500mm
f8
Soligor
5 / 4
8.2
77mm
500mm
f8
Tamron
7 / 4
5.6
82mm
500mm
f8
Vivitar
7 / 6
5.7
30.5mm
500mm
f8
Vivitar
4 / 4
32.8
67mm
500mm
f8.8
Soligor
8 / 5
8.2
67mm
500-800mm
f8-12
Soligor
6 / 6
13.1
77mm
600mm
f8
Sigma
6 / 6
6.6
22.5mm
600mm
f8
Sigma
7 / 4
6.6
30.5mm
600mm
f8
Soligor
2 / 1
42.6
87mm
600mm
f8
Vivitar
9 / 7
23.0
35.5mm
600mm
f8
Vivitar
3 / 2
23.0
87mm
650mm
f8.5
Soligor
7 / 6
6.6
88mm
650-1300mm
f8-16
Vivitar
8 / 5
16.0
95mm
800mm
f11
Vivitar
10 / 7
23.0
35.5mm
800mm
f8
Soligor
2 / 1
82.0
37mm
800mm
f8
Vivitar
9 / 9
32.8
30.5mm
800mm
f8
Vivitar
2 / 1
82.0
37mm
800mm
f8
Vivitar
4 / 2
59.0
107mm
1000mm
f13.5
Sigma
6 / 6
16.4
30.5mm