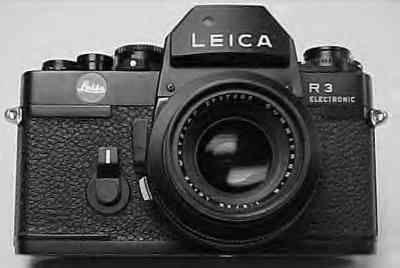 MINOLTA - LEICA 35mm CAMERAS
---
Minolta and Leica always had a love-hate relationship, with Minolta loving Leica cameras and designing several cameras after the Leica models -- and Leica hating the market share that Minolta was taking away from them with their "cheap" cameras. But as production costs continued to rise in Germany, Leica looked for ways to cut costs while expanding their market share. As a result, over the years, Minolta produced several of Leica's cameras and lenses. Sure, Leica made modifications to the cameras after they arrived in Germany, Portugal or Canada, and they put the lenses through "rigorous" German quality control, changed the lens mount and some cosmetic changes, but it's really the same gear. Leica owners that say their Leitz R3 with a Vario-Elmar 80-200mm f4.5 is better (or produces better pictures) than the Minolta XE-7 with a Rokkor-X 80-200mm f4.5 are living in a fantasy world. In reality, all of the cameras were made on the same assembly line in Minolta's factory in Japan and the lenses came out of the same vat of melted Minolta sand and had the same coating. At the time (mid '70's), the Leitz R3 with a Vario-Elmar 80-200 f4.5 cost SIX TIMES as much as the Minolta XE-7 with a Rokkor-X 80-200mm f4.5. That's quite a high price for German "quality control". There are rumors that circulate claiming that Leica rejected over 70% of Minolta's lenses. Such a notion is ridiculous. No company would ever do business with another company where they had to reject such a high percentage of items. Another wild claim is that Leica made such radical changes to the items that they could be marked "Made in Germany". Absolute rubbish. If you look at any Vario-Elmar 80-200 f4.5 -- or any other Minolta-made, Leitz lens -- it clearly states, "Made in Japan". Yet another high tale is that Leica was unsatisfied with Minolta's quality, so they ended the relationship. This is just more garbage. Leica continued to buy Minolta cameras and lenses for many years (see below). Most of the APO elements in Leica lenses were made by Minolta, and Leitz continued to buy Minolta cameras until 1997. Eventually, Leica went one way in the photographic industry and Minolta another. Leica stuck to a more traditional path and Minolta ventured into unknown territory. So, of course, Minolta items were no longer of interest to Leitz. But to suggest that Minolta's equipment is somehow inferior compared to the same gear with a Leica label is silly.
The first cooperative agreement between the companies was back in 1972. Leica decided to produce a compact Leica (CL) camera that would be less expensive than their existing models. But in order to keep production costs down to a minimum, they needed the camera to be manufactured by an outside company with hi-tech capabilities and low labor costs. Leitz was able to reach an agreement with Minolta, and the Leica CL was born.
Leitz Minolta CL prototype

(1972) The goal was to make a miniaturized Leica M3 with the same bayonet mount and manufactured by Minolta. The prototype lacked a rangefinder, but had a shoe that could hold a viewfinder (matched to the lens) -- or a hot-shoe electronic flash. The top of the camera is marked "Leitz Minolta", and the front is marked "CL". The production model saw changes.

Leica CL

(1973-75) It's basically a miniaturized Leica M3 with a rangefinder added to the prototype. It is marked "Leica CL" with no mention of Minolta, and sold with Leica lenses.

Leitz Minolta CL

(1973-75) Under the manufacturing agreement with Leica, Minolta was allowed to sell the CL -- in Japan -- as the "Leitz Minolta CL". It was the same exact camera but came supplied with a Rokkor lens and sold at a substantial savings. At the end of the agreement, Minolta did Leica one better. They took the CL design and developed the slightly larger, but much improved Minolta CLE.

Leica R3

(1976-79) Minolta and Leica had co-operated on various photographic projects. In fact, the shutter in the Minolta XE-7 was designed by Leica and built by Copal. While Minolta moved on to newer shutters and camera models, Leica opted to continue the XE-7 in the Leica R3. Just comparing the two will make you think they are exactly the same camera, but they are not. The basic body parts were manufactured by Minolta but the camera was assembled and modified by Leica. There were some minor changes to the external body controls, and internally there were significant changes made to the metering system, for example, by adding Spot & Averaging metering modes. Apparemntly these changes led to the R3 having a reputation for metering problems -- which the various Minolta XE cameras never had.

So while it can't completely be called a "Minolta" camera, it can be labeled a cooperative camera, like the Leitz-Minolta CL rangefinder camera. Leica fans tend to downplay the similarities, calling the XE-7 and the R3, "cousins". Minolta fans, on the other hand, tend to downplay the differences, calling them, "brothers". Leica users will claim that while the camera parts may be largely manufactured by Minolta, the camera used superior Leica optics and German quality control. But, in fact several of the lenses that were designed for this camera were Minolta-made lenses, as well. For example, the 80-200mm MC Rokkor-X zoom lens, which sold under the Minolta label for $400, at the same time it was rebadged and sold as a Leica lens for $1,200. That's a lot to pay for German quality control. (Just to be equitable, there were a few Leica lenses that were adapted and sold by Minolta -- see the lens lists for details. You can tell a Minolta lens in the Leica line-up because the lens is clearly marked "Lens made in Japan". The Leica R3 camera -- like all R cameras -- has a Leica R mount, NOT a Minolta SR mount -- it's just too bad that you can't get it at Minolta prices!

Leica R3-MOT

(1976-79) Leica came out with a version that had a motor drive. Too bad Minolta didn't do this.

Leica R4 / R4-MOT

(1980-86) Leica found the agreement with Minolta for the Leica R3 so lucrative, they decided to travel further down the same road and announced the Leica R4. In this instance it is a modified XD-11, instead of a modified XE-7 as was the Leica R3. They also sold it as the R4-MOT -- which is the same same, since the Minolta XD cameras already had motor drive capability built-in. As with the R3, Leitz made some minor changes to the external body controls, and internally there were significant changes made to the metering system, for example, by adding Spot & Averaging metering modes. Apparemntly these changes led to the R4 having a reputation for metering problems -- which the various Minolta XD cameras never had.

Leica R4s / R4sp

(1983-88) As with the R4 / R4-MOT, this is one camera, two names. It is an R4 / R4-MOT minus the shutter-priority mode -- but it is apparently more reliable.

Leica R5

(1986-91) This is really just an R4 / R4-MOT with two notable changes. First, the reliability problems were resolved, and not quite as important, the shutter speed range is increased. Instead of 1s to 1/1,000, it is now 15s to 1/2,000 -- in auto-exposure modes.

Leica R-E

(1990-92) They should have called this one the R5s because it is an R5 minus the shutter-priority mode -- similar to the R4s / R4sp -- but more reliable.

Leica R6

(1988-92) Leica decided to make an R5 / R-E for the mechanical, manual-only crowd. They replaced the electronic shutter with a mechanical shutter -- and eliminated all auto-exposure modes. It still has the TTL meter, but the shutter speed and aperture are manually set -- with the help of the TTL meter, if desired. So the camera works fine without batteries -- which only are used for the meter.

Leica R6.2

(1992-2001) The R6.2 is an improved version of the R6 with a top speed of 1/2,000. It must have been a hit because they made it up to 2001.

Leica R7

(1992-97) In this model, Leica made so many changes to the R5 -- full flash automation, full-micro-processor control, viewfinder display, etc. -- that it required significant changes to the body. Still, the Minolta XD lives on.
---
RETURN TO THE MANUAL MINOLTA HOME PAGE
We didn't want to do this, but since other websites have been stealing our stuff, we have no alternative but to state:
COPYRIGHT@1995-2023 by Joe McGloin. All Rights Reserved. The material on this website is protected by US Federal copyright laws. It cannot be copied or used in any manner without specific approval from the owner.