THE GALLERY
---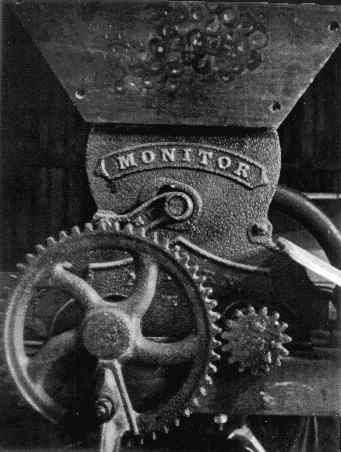 Photo by Michael S. Goldfarb
Minox IIIS
Antique Grape Press, Muscoot Farm Park, Somers, New York (1998)
"Another lovely piece of obsolete technology! This was one of a group of farm machines on display in an old barn. It was lit by one small spotlight, which really brought out the texture in the cast iron. I kneeled down and hand-held at 1/5, and amazingly there's no camera movement."
1956 Minox IIIS with Agfapan 100 film, exposure probably 1/5. Developed in D-76 1:1 and printed at 4x5" on Luminos Flexicon VC RC with #2 filter using a 1950s Omega D3 enlarger with a 50mm EL-Nikkor lens. Scanned to PCX file at 200dpi, then scaled back to 4x5" and converted to JPEG with minor contrast/brightness corrections.
---
To return to the main index for the Sub Club click here.

COPYRIGHT @ 1995, 1996, 1997, 1998, 1999, 2000, 2001, 2002, 2003, 2004, 2005 by Joe McGloin. All Rights Reserved.