THE GALLERY
---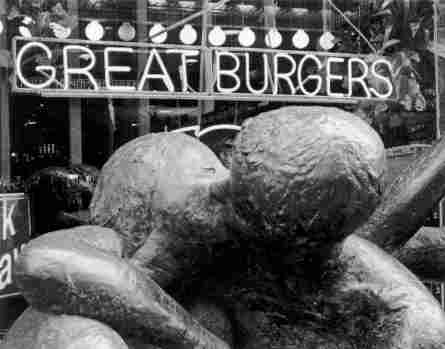 Photo by Michael . Goldfarb
Minox IIIS
Great Burgers, New York City (1996)
"The juxtaposition of the statue of the kissing couple in the foreground and fast food place sign behind it was just irresistible. I wish I could claim that this was a spontaneous shot, but I actually looked at this image every time I passed the statue for a few weeks before I finally took the picture. It was a cloudy day in a deep Seventh Avenue canyon and the statue was dark stone, hence the slow exposure for an outdoor shot."
1956 Minox IIIS with Agfapan 100 film, exposure probably 1/50. Developed in Microdol-X 1:3 and printed at 4x5" on Luminos Flexicon VCF RC paper with a #4 filter using a 1952 Omega D3 enlarger with a 50mm EL-Nikkor lens. Scanned to PCX file at 200dpi, then scaled back to 4x5" and converted to JPEG with minor contrast/brightness corrections.
---
To return to the main index for the Sub Club click here.

COPYRIGHT @ 1995, 1996, 1997, 1998, 1999, 2000, 2001, 2002, 2003, 2004, 2005 by Joe McGloin. All Rights Reserved.