THE GALLERY
---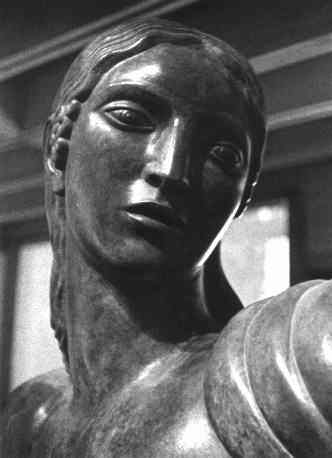 Photo by Michael . Goldfarb
Minox IIIS
Statue of Diana at Hudson River Museum, Yonkers, New York (1998)
"This beautiful, almost life-size bronze statue is part of a matched set (the other is of Actaeon and his hounds) that were once displayed at the Untermeyer Estate in northwest Yonkers. It was sculpted in 1924 by Paul Manship, who went on to do the huge Prometheus fountain at Rockefeller Center in Manhattan a decade later. It's a simply gorgeous thing, reflecting the stylings of both the end of Art Nouveau and the emergence of Art Deco. (For an interesting look at more of Manship's mythological work, including a full view of this statue, visit http://nmaa-ryder.si.edu/deptdir/edusub/myth_manship.html)
I was very taken with this statue, and I immediately whipped out my Minox. After taking a shot of the whole thing, I went in for this closeup almost as an afterthought, figuring my guestimated focus of one-and-a-half feet would never be right. But I was dead on. Interestingly, this is on my 'last' roll of Agfapan 100, as I've now standardized on T-Max 100 as my usual Minox b/w film. But with lovely results like this, I think just maybe I'll keep shooting some Agfapan every now and then!"
1956 Minox IIIS with Agfapan 100 film, exposure probably 1/20. Developed in D-76 1:1 and printed at 4x5" on Luminos Flexicon VC RC with a #2 filter using a 1950s Omega D3 enlarger with a 50mm EL-Nikkor lens. Scanned to PCX file at 200dpi, then scaled back to same size and converted to JPEG with minor contrast/brightness corrections.
---
To return to the main index for the Sub Club click here.

COPYRIGHT @ 1995, 1996, 1997, 1998, 1999, 2000, 2001, 2002, 2003, 2004, 2005 by Joe McGloin. All Rights Reserved.